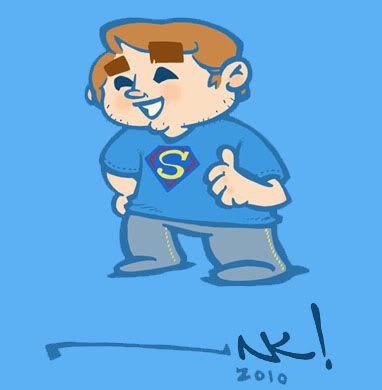 in honor of my continuing new york trip i droodled this here ninja turtle. now, casual fans of the cartoon might ask, "why does raphael have swords? i thought his weapons were those daggers."
first of all, those 'daggers' are called 'sai.'
and secondly i was following a more comic approach, in which all the turtles wore red bandannas.
and thirdly, i didn't have any blue media on me, so why don't you just back off?
man, i can't tell you how many times i drew the ninja turtles back in the day. that's where i cut my teeth drawing stuff. they were perfect intro to drawing subject matter too. the chest plate let you off easy on the torso anatomy, the shell saved you from have to draw anything but an oval when they were turned around, the cartoon had them with knee and elbow pads, making it easy to break the limbs down, and some little things around the wrists just for good measure. plus only two toes and three fingers?! easy!
thank you ninja turtles for being so simple to draw!
that will have to do for me this time out.
i'm sort of running out of iconic new york heroes to draw. i swear i thought of one a day ago and then it slipped my mind. 's what i get for not writing it down.
any thoughts?
EDIT!
proper scanned image here. v
not too big a difference in this one.